October 12, 2011
By Allison E. Evans, Esq.
Most individuals today understand the critical importance of saving for retirement. We were lectured about it by our parents, we stress it to our children, and we discuss it with our employers and financial advisors. Fewer individuals, however, understand the extremely complicated rules and regulations which govern their retirement assets. Just as there are many different types of retirement plans, there are many significant variations in the rules that apply to them. As an unfortunate result, retirement assets are often mishandled, particularly in the context of an estate plan.
The good news? You do not need to become a self-taught expert on this intricate, vast subject in order to ensure that your retirement assets are being maximized and properly employed in your overall estate plan. Arming yourself with certain basic and accurate information to share with a professional advisor is the first key step to proper planning for retirement assets.
Obviously, it important to know the specific type or types of retirement plans in which an individual is participating. For example, the differences in tax treatment for a Roth IRA and a traditional IRA are significant.
In addition to a current estimate of your retirement assets' value, know the proportion of employee and employer contributions that apply to your retirement plan. Whether contributions were partially made post-income tax, as opposed to pre-income tax, is relevant. Many individuals have rollover benefits from a previous plan, and these participants should learn what portion of their current balance is attributable to the rollover. Whether any withdrawals have been made from your retirement plan is another factor to be considered. For post-death considerations, be familiar with any effective beneficiary designations and, if applicable, related issues, such as spousal waivers. All of this information is likely contained in documents that can be provided by an employer.
If possible, obtain a copy of your retirement plan. Upon request, many employers will provide actual copies of a plan to its employees. Employers are required to at least provide participating employees with "Summary Plan Descriptions", a condensed version which will summarize the retirement plan. Summary Plan Descriptions are only updated periodically, so if a full copy cannot be obtained, determine when the last update occurred and whether all recent changes are being reflected. For post-death considerations, be familiar with any effective beneficiary designations and, if applicable, related issues, such as spousal waivers.
Having correct and basic information about your retirement assets is the first, and most important, step to proper planning for retirement assets. After consulting with a financial advisor or estate planner, consistently review and monitor your retirement planning assets with them. Retirement assets are the single most valuable asset in an increasing number of estates. In today's turbulent economy, it is critical to arm yourself and your advisors with complete and accurate information to maximize retirement assets, both for yourself and for your heirs.
August 14, 2010
Living Trust Mills Can Be Financial Traps
I recently received a series of postcards inviting me to an "Elder Law Update", strongly suggesting that I need to have a Living Trust.  In addition to the seminar, I was invited to stay for a free lunch.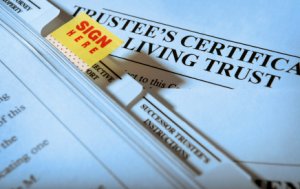 Often times these solicitations come from "trust mills".  These companies are referred to as "trust mills" because they turn out a high volume of cookie-cutter Living Trusts.  Sometimes they charge clients for the Living Trusts, other times they offer the Living Trusts for free.  However, as an unwitting consumer will soon find out, low cost or "free" estate planning documents are not really "free".
The most serious problem with trust mills is their ultimate objective.  That is, to obtain an individual's financial information so that its sales persons can sell unneeded annuities and related investments to unsuspecting individuals, most likely to the elderly and vulnerable adults.
Sales agents for these operations often misrepresent the disadvantages of seniors' current investments and the advantages of the investments they are selling.  They may even make seniors believe their bank accounts are not as safe as the annuities or investments they want the seniors to buy.  To give themselves a cloak of legitimacy, these sale agents pretend to be experts at Living Trusts.  In their solicitations, these sales agents often pose as expert financial or estate planners.  They pass themselves off as a "trust advisor", "senior estate planning" individual or a "paralegal" and schedule initial appointments with seniors in their homes.  Under the guise of helping to set up or update a Living Trust, the sales agents find out about the seniors' financial assets and investments.  They sometimes work in assisted living centers, churches and other places where seniors gather, scamming elderly victims through free seminars and other sales presentations.
Planning an estate and choosing investments involve important legal, financial and personal decisions.  If financial planning documents are not properly prepared or executed, they can be invalid and cause lasting damage.
Following our tips can help consumers avoid becoming victims of trust mills and their scams:
The sales agents at trust mills are usually not attorneys nor are they experts in estate planning;
Watch out for companies (and individuals) that sell Living Trusts together with  annuities and other investments;
Sales agents may fail to disclose possible adverse tax consequences or early withdrawal penalties that may be incurred when transferring stocks, bonds, certificates of deposits or other investments to annuities;
An annuity is not 100% safe and only a portion is guaranteed by the state;
Insurance companies can and do fail and their assets may not be enough to pay the full value of the consumer's investments; So called "promissory notes" are not insured by the FDIC or other governmental agencies and may be very risky.  They may not be registered as securities with the State of Arizona;
Before consumers buy an annuity or other investment, they should review it with people who know trust law, such as their financial or tax advisor, their attorney and trusted family members; and
An attorney qualified in estate planning can help consumers decide if they need a Living Trust and other estate planning documents or help them review an existing Trust or Will.
Here are some steps that you should take before you sign papers to create a Will, Living Trust or other estate planning documents:
Consult with an Arizona licensed estate planning attorney or financial advisor, preferably one recommended to you by a trusted friend or family member, or contact the State Bar of Arizona and ask for a referral of a certified specialist.
Beware of high pressure sales tactics.  Take time to consider your options.
If you decide to obtain a Living Trust, make sure it is properly funded.  That is, that the property has been transferred from your name to the Trust.  Unless your assets are retitled in the name of the Living Trust, they may very well be subject to probate proceedings upon your death.
July 14, 2010
By John R. Becker, Esq.
Becker & House, PLLC
Certified Estate and Trust Law Specialist
Several years ago Elizabeth lost her husband to cancer.  With her children grown and living out of state, Elizabeth rescued a small dog from the local animal shelter to help fill her lonely days.  "Chomper" became an important part of Elizabeth's family and added so much joy to Elizabeth's life.  Unfortunately, Elizabeth is now faced with her own potentially fatal health issues and is concerned about what will become of Chomper, her beloved pet and companion, when she passes on.
Pets have become family members to many of us and often we want to insure that if something were to happen to us, they would be cared for in the manner in which they have become accustomed to.
When we perform estate planning services for our clients, we discuss their property, and who is to receive it.  We discuss their minor children, and who is to act as guardian for those minor children.  Additionally, we discuss our clients' pets, and who is going to care for those beloved pets should our clients become incapacitated or upon their deaths.
Arizona actually has two statutes that allow the creation of a trust for the purpose of holding funds to be used for the care of a person's pet.  Typically, the establishment of a pet trust is not necessary.  However, the identification of a proper caregiver is essential.  You should determine who you wish to act as caregiver in your place as well as name at least one alternate caregiver.
Our clients are also provided with a pet information sheet for each of their pets.  This document lists the pet's veterinary information as well as its daily care information, including its usual food, likes and dislikes, and any behavioral information important for the care of that pet.
At Becker & House, we take pride in our legal services for clients, especially in estate planning and estate administration.  As part of that planning, we want to make certain that the beloved pets of our clients are properly cared for upon their passing.  Knowing that Chomper will continue to receive the care Elizabeth has given him, Elizabeth will be able to rest a little easier.