// BLOG
October 12, 2011
By Allison E. Evans, Esq.
Most individuals today understand the critical importance of saving for retirement. We were lectured about it by our parents, we stress it to our children, and we discuss it with our employers and financial advisors. Fewer individuals, however, understand the extremely complicated rules and regulations which govern their retirement assets. Just as there are many different types of retirement plans, there are many significant variations in the rules that apply to them. As an unfortunate result, retirement assets are often mishandled, particularly in the context of an estate plan.
The good news? You do not need to become a self-taught expert on this intricate, vast subject in order to ensure that your retirement assets are being maximized and properly employed in your overall estate plan. Arming yourself with certain basic and accurate information to share with a professional advisor is the first key step to proper planning for retirement assets.
Obviously, it important to know the specific type or types of retirement plans in which an individual is participating. For example, the differences in tax treatment for a Roth IRA and a traditional IRA are significant.
In addition to a current estimate of your retirement assets' value, know the proportion of employee and employer contributions that apply to your retirement plan. Whether contributions were partially made post-income tax, as opposed to pre-income tax, is relevant. Many individuals have rollover benefits from a previous plan, and these participants should learn what portion of their current balance is attributable to the rollover. Whether any withdrawals have been made from your retirement plan is another factor to be considered. For post-death considerations, be familiar with any effective beneficiary designations and, if applicable, related issues, such as spousal waivers. All of this information is likely contained in documents that can be provided by an employer.
If possible, obtain a copy of your retirement plan. Upon request, many employers will provide actual copies of a plan to its employees. Employers are required to at least provide participating employees with "Summary Plan Descriptions", a condensed version which will summarize the retirement plan. Summary Plan Descriptions are only updated periodically, so if a full copy cannot be obtained, determine when the last update occurred and whether all recent changes are being reflected. For post-death considerations, be familiar with any effective beneficiary designations and, if applicable, related issues, such as spousal waivers.
Having correct and basic information about your retirement assets is the first, and most important, step to proper planning for retirement assets. After consulting with a financial advisor or estate planner, consistently review and monitor your retirement planning assets with them. Retirement assets are the single most valuable asset in an increasing number of estates. In today's turbulent economy, it is critical to arm yourself and your advisors with complete and accurate information to maximize retirement assets, both for yourself and for your heirs.
January 12, 2011
Estate Tax Changes in 2011 and Beyond
The tax bill passed recently by Congress and signed into law by President Obama on 17 December 2010 addresses important tax issues for 2010 through 2013. The Tax Relief, Unemployment Insurance Reauthorization, and Job Creation Act of 2010 has several important aspects that affect the estates of decedents who died in 2010. The new law also has important provisions that may affect current estate plans. Several key changes and the impact on estate planning are summarized below.
The Estate Tax is Reimposed: The new law establishes that the estate tax rate is 35% beginning 1 January 2011 and continuing to 31 December 2012. The applicable exemption from the estate tax is $5 million, and is indexed to adjust for inflation after 2011. On 1 January 2013, absent further action by Congress, the estate tax rate will reset to the pre-2001 level of 55%, with a $1 million applicable exclusion amount.
New Choices for 2010: Generally, the estates of decedents who died after 31 December 2009 and before 1 January 2011 are subject to the estate tax at the current rate of 35% with the $5 million exclusion and stepped-up basis for estate assets. For smaller estates of under $5 million, this rule is beneficial because it allows stepped-up basis of the assets in the estate. Property with a stepped up basis generally receives a basis equal to the property's fair market value on the date of the decedent's death.
For larger estates over $5 million, however, the Personal Representative may elect not to apply the current estate rules. If this election is made, estate taxes are zero, but the estate assets receive a carry-over basis instead of a stepped-up basis. Under the carry-over rules, property generally receives a basis equal to the lesser of the decedent's basis in the property or the property's fair market value at the time of decedent's death. Additionally, under the carryover basis rules that apply for 2010, Personal Representatives can increase the basis of estate property by $1.3 million.
Personal Representatives should consider several factors before making such an election, such as the amount of estate taxes otherwise payable compared to the capital gains taxes on the anticipated sale of estate assets.
Portability to Surviving Spouse: For 2011 and 2012, the Personal Representative may make an election so that if one spouse did not fully utilize his $5 million applicable exclusion amount, the unused portion can be transferred to the surviving spouse. This means the executor can increase the possible estate tax exemption for the surviving spouse by the amount the first spouse did not use.
This provision was enacted to avoid the need for credit shelter trusts in estate planning documents. Unfortunately, because it expires on 31 December 2012, in order to benefit from this portability feature, both spouses must die before 2013. For this reason, and because credit shelter trusts provide additional benefits beyond just the use of each spouse's applicable exclusion amounts, most clients should continue to use estate plans that incorporate credit shelter trusts.
Credit shelter trusts ensure that assets contained in the trust pass to children of the couple and not to any new spouse of the surviving spouse. Appreciation on assets contained within the credit shelter trust, which may be more than the applicable exclusion amount, are not subject to the estate tax upon the surviving spouse's death. Assets in credit shelter trusts are also protected from creditors of the surviving spouse, including any marital claims of future spouses.
Extension of Current Gift Tax Rates: The new law extends the 35% maximum rate for gift taxes from now through 2012, after which the rate resets to 55%, absent further action by Congress.
Increased Lifetime Applicable Exclusion from Gift Taxes: Starting on 1 January 2011, the lifetime exclusion from gift taxes is increased to $5 million per person from $1 million ($10 million per married couple). This means that individuals may transfer up to $5 million ($10 million for a married couple) free of gift tax. This increased exclusion amount is set to expire and reset at $1 million in
2013, absent further action by Congress.
This increased applicable exclusion provides an unprecedented opportunity to move substantial amounts of wealth out of individuals' estates. For example, the increased gift tax applicable exclusion amount increases the amount of assets that individuals can transfer via an installment sale to a dynasty/grantor trust. Under this estate planning technique, individuals can now make an initial gift of as much as $5 million ($10 million per married couple) to a dynasty trust, in exchange for an installment note. This technique works especially well for family businesses that are expected to grow significantly in value over time.
Because this provision will expire in 2012 absent further action by Congress, it would be prudent to implement estate planning techniques utilizing lifetime gifts before the 31 December 2012 sunset date.
Donors continue to be able to use the annual gift tax exclusion before having to use any part of their applicable exclusion amount. For 2010 and 2011, the annual exclusion amount is $13,000 per recipient. Married couples may continue to "split" their gift and may make combined gifts of $26,000 to each recipient.
Extension of Time to File Estate Tax Returns, Pay Estate Taxes, and Disclaim Property: The new law provides that for decedents dying after 31 December 2009 and before the date of the enactment, the due dates for filing returns, paying taxes and making disclaimers of property are extended.
The due date for filing an estate tax return and for payment of the estate tax is no earlier than nine months following the date of enactment. Because the law was enacted on 17 December 2010, the earliest date estate tax returns and payments are due will be 19 September 2011 for decedents who died in 2010 before 17 December 2010.
Similarly, the time for making a disclaimer of property is extended in the case of decedents dying after 31 December 2009 before the enactment of the law on 17 December 2010. The time for making a disclaimer of property is extended to nine months following the date of enactment, so 19 September 2011.
Income Tax Provisions
Alternative Minimum Tax: the Alternative Minimum Tax (AMT) exemption will continue to be adjusted for inflation through 2011. This provision is, however, set to expire in 2012.
Required Minimum Distributions from IRAs: Individuals over age 70 ½ who still need to make a required minimum distribution (RMD) from an IRA for tax year 2010 may choose to donate up to $100,000 of the RMD to a qualified charity. Donors pay no income taxes on the amount of their RMD (up to $100,000) donated to a qualified charity. Donors have until 1 February 2011 to direct their 2010 RMD to a qualified charity. However, individuals who have already taken their RMD without directing it to a charity may not "undo" or redirect those distributions to charity. Taxpayers will also be allowed to direct their 2011 RMDs to qualified charities because the new law extends this provision through tax year 2011.
Reduced Income Tax Rates Extended: The new law extends the "Bush tax cuts" of 2001 for two additional years. The top marginal income tax rate will stay at its current level of 35% for 2011 and 2012 but is set to increase to 39.6% in 2013.
Payroll Taxes: the new act provides for a one year reduction in an employee's social security taxes, to 4.2% from 6.2%. This reduction is effective for 2011 only, and applies to all income up to $106,800 (the cap for Social Security taxes). Self-employed individuals also receive a 2% reduction in their Social Security tax rates, from 12.4% to 10.4%.
Capital Gains and Qualified Dividend Income: The 15% rate on long-term capital gains and qualified dividend income is extended through 2102. Absent further action by Congress, these rates are set to increase to 20% for long-term capital gains and 39.6% for qualified dividend income on 1 January 2013.
Temporary Relief
The provisions of the new law are temporary and will expire by January 2013, although some (like the Alternative Minimum Tax relief and payroll tax reduction) will expire even earlier. In 2013, absent Congressional action, top marginal income tax rates, estate and gift tax rates, and long-term capital gains rates will reset at their pre-2001 levels. Additionally, the estate tax and gift tax exemptions will decrease to $1 million each.
In light of the changes in the new law, current estate plans may need to be reviewed to be sure that formula calculations in wills and trusts are compatible with the new rates and exemption amounts. Clients may desire to reassess their estate plans to ensure their intentions are met.
As always, we recommend that clients review their estate plans periodically and whenever a significant life event occurs (e.g., birth of a child, death of a spouse, purchase of a new home). Please do not hesitate to contact us with any questions you might have or if you would like to discuss your estate plan in light of the new changes.
Important Information
IRS Circular 230 Disclosure: Any discussion of U.S. tax matters contained herein is not intended, and cannot be used, for the purpose of avoiding U.S. tax-related penalties, or in connection with the promotion, marketing, or recommendation by anyone unaffiliated with Becker & House, PLLC of any of the matters addressed herein.
The views and strategies discussed herein may not be suitable for everyone. This information is provided for educational purposes and distributed with the understanding that we are not rendering legal, accounting or tax advice. You should consult with an independent advisor concerning such matters.
October 7, 2010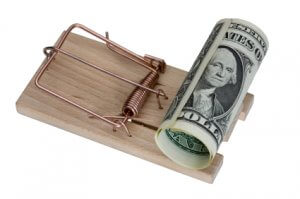 In the current economic climate, there seem to be more and more predators on the elderly. Unfortunately, many of those predators are those we tend to trust the most – family members, caregivers and people who are there to help.
Financial exploitation is, generally defined, taking advantage of someone who is a "vulnerable adult" by someone who is "in a position of trust and confidence." These terms, despite having specific legal meanings, are applied in a common sense fashion. That is, a "vulnerable adult" is one who is unable to manage their own affairs without some help. A person in a "position of trust and confidence" is someone like an agent under a power of attorney, a joint account owner, or simply just someone who has inserted himself into the vulnerable adult's life.
Quite often, the financial exploitation begins in a fairly innocuous fashion. For example, a daughter asks her elderly father for a loan to cover short-term expenses for a month while daughter looks for work. Many, if not most, parents would not have any problem with the request. The problem begins when daughter makes that same request every month for a year and never takes any steps to secure employment. Daughter then suggests to her father that she move in and take care of him and suggests that it would be much easier to care for him if she were a co-signor on the banks and brokerage accounts. The situation then can spiral out of control, with daughter using dad's money to purchase things dad "needs" – a new car, new electronics, a bigger house – all conveniently owned in daughter's name. What quite often begins as genuine concern for dad's well-being transitions into daughter's belief that she is "entitled" to dad's money.
Not every situation where an elderly person is helping someone amounts to financial exploitation. So, how does one recognize financial exploitation?
Is mom-dad-neighbor showing signs of needing help? The first indication that a problem may arise is when the elderly individual starts to need help with getting around or with his or her finances.
Is someone new living in the elderly person's home with them? Access is everything for financial exploitation to occur. A live-in caretaker, whether that person is hired or a family member, has nearly unlimited access to the elderly individual.
Is the caretaker showing up with new items? There seems to be a recurring theme that the exploiter buys a new vehicle, claiming that they "need" it to take dad to the doctor.
Is the elderly individual unaware of the problem? When asked, does the elderly person claim that the exploiter "needs the help"? If so, that is a good sign that exploitation is occurring.
If you see a family member or friend being exploited, there is help available. If it is your parent and you fear he is being exploited, talk to him about it. Request to look at the bank account statements. If there are other family members, contact them. They may not be aware of the situation at all. You can also call Adult Protective Services and request that they look into the problem. Finally, you can talk to a lawyer who understands these matters.
Mark E. House is a partner in the firm Becker & House, PLLC and focuses his practice on trust and estate litigation matters, including financial exploitation and can be reached at 480/240-4020.
September 14, 2010
As a population ages, protecting the elderly generation from financial predators becomes of paramount concern. The experience, at least in the author's jurisdiction, is that financial exploitation is a significant problem. Exploitation can be outright criminal, such as threatening to withhold medical care if assets are not transferred or fraudulently conveying assets under a professional's management. It can also be more innocuous, yet no less detrimental, such as over-compensating caregivers because the vulnerable adult "wanted" it to be done. Aged adults are being taken advantage of by both family members and professional caregivers, by financial advisors and medical providers.
This paper addresses a number of issues that are raised in the context of protecting the elderly. The first section provides a background of the underlying medical afflictions facing an elderly population leading to concerns regarding vulnerability. The second section details a sampling of various states' efforts to address financial exploitation from a civil context. Section three addresses the criminal aspects of financial exploitation.
I. Aging in America
There are a vast number of debilitating illnesses that give an opportunity for an exploiter to take advantage of a vulnerable adult. The general aging process surely makes the elderly more frail and susceptible to exploitation as a result of generally not being as mobile and relying on others to assist them with activities of daily living. Although physical frailty certainly can generate exploitation, in the author's experience, it is diminishing mental capacity that really creates the environment for exploitation to occur.
According to the American Alzheimer's Association, approximately 5,100,000 people over the age of 65 have Alzheimer's Disease or some other form of dementia. This amounts to roughly 13 percent of people over the age of 65 that have dementia. Needless to say, the proportion of the elderly who have some form of dementia is very high and expected to get higher. In fact, by 2030, the population of the United States age 65 or older will double. The sheer numbers of elderly who have dementia means that there are more people who will be considered vulnerable and in need of protection.
One of the key components of dementia is the decrease in judgment or poor decision-making skills. It is this decrease in judgment that causes such concerns regarding financial exploitation.
II. The Scope of the Problem — What is Exploitation?
As we address the issues in Parts Three of Four of this paper regarding remedies, identifying the behaviors that need to be prevented becomes paramount. One of the concerns regarding any financial exploitation statute is that it must be adequately inclusive to capture all the malfeasance without being so over-inclusive as to capture acceptable behavior.
The inevitable question thus becomes, how do we protect the elderly?
III. Protecting the Elderly, the Civil Side.
There are a number of issues that need to be addressed in order to create an acceptable financial exploitation statute. The first issue is to determine who is going to be protected by the statute. The second issue is to determine who is going to be liable under the terms of the statute. Finally, it must be determined what behavior is acceptable and what behavior is prohibited.
A. Who is going to be protected?
The protections of the statute must be extended to those who are actually in need of protection. Ideally, no one other than those needing protection would be covered in the definition. In this situation, and given the importance of the protections being extended, over-inclusion is certainly preferable to under-inclusion. That is, a well-drafted statute would not fail to include anyone who needs protection, even if that comes at the expense of including some people who should not be covered by the statute.
In Arizona, the protection of the financial exploitation statute is extended to "vulnerable adults." A "vulnerable adult" is defined as someone "who is unable to protect himself from abuse, neglect or exploitation by others because of physical or mental impairment. Avulnerable adult includes an incapacitated person. . ." The Arizona statute seems to be under-inclusive. Certainly, if a vulnerable adult is unable to protect himself from being exploited, he should be protected.
The Arizona courts, however, have interpreted the concept of who is a vulnerable adult more expansively that the statute would seem to indicate. In Davis v. Zlatos, the court was careful to delineate the differences between being vulnerable and being incapacitated, stating that, "An incapacitated person cannot make informed decisions. A vulnerable person may be able to make such decisions, but is unable to protect herself against being abused, neglected or exploited. The protections of the statute extend to a vulnerable adult even if the person is not incapacitated."
The first test in determining whether an individual is a vulnerable adult is to determine whether he suffered from an impairment. An impairment was defined by the court in Davis as a "decrease in strength, value, amount, or quality." This is the expansion on the terms of the statute that attempts, from a judicial standpoint, to limit the under-inclusive nature of the Ariozna statute. The impairment found in Davis — by the appellate court — was that Mrs. Zlatos was "an eighty-six year old woman who was physically frail and unable to walk." She relied on others for her care.
The second question to be answered in the Davis analysis is whether an individual was unable to protect himself as a result of his impairment. The trial court in Davis found that Mrs. Zlatos had "frequent opportunities to raise concerns with bankers, doctors, escrow personnel and family members if she believed that [the caregiver] was acting inappropriately…" Id., at 526, 1163. The appellate court rejected this as the standard.
Instead, the Court of Appeals stated as follows:
In this case, there is nothing in the record to indicate that Mrs. Zlatos considered herself to be abused, neglected or exploited, but her silence does not control whether she was a "vulnerable adult" under the statute. As mentioned above, a victim may not even realize she is being abused or exploited, particularly when the issue is financial exploitation and she is willingly parting with her money or property. Exploitation may occur with the full participation of the victim, but it is no less exploitation. The legislature plainly intended the statute to increase protection for those who are "unable to protect" themselves. We do not believe the legislature intended the statute to apply only to elderly persons who can prove that they unsuccessfully fought against actual abuse, neglect or exploitation.
From the judicial interpretation of who is covered by the statute, it is clear that an individual with diminished capacity resulting, for example, from moderate dementia, is going to be protected by the Arizona statute.
Although Washington uses the term "vulnerable adult," in addition to those covered under Arizona law, it also extends protections to anyone in a facility — meaning that anyone in a nursing home or assisted living facility is considered a vulnerable adult.
Under Illinois law, the protections are extended to all individuals over the age of 60 and to anyone with a disability.
Remedies.
Illinois provides that the exploited has 60 days after a demand is made for the return of the property, after which a suit can be maintained for the treble the amount of the property obtained, plus attorneys' fees and court costs
August 14, 2010
Living Trust Mills Can Be Financial Traps
I recently received a series of postcards inviting me to an "Elder Law Update", strongly suggesting that I need to have a Living Trust.  In addition to the seminar, I was invited to stay for a free lunch.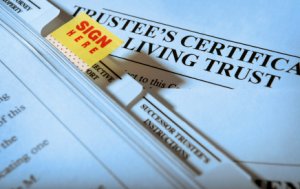 Often times these solicitations come from "trust mills".  These companies are referred to as "trust mills" because they turn out a high volume of cookie-cutter Living Trusts.  Sometimes they charge clients for the Living Trusts, other times they offer the Living Trusts for free.  However, as an unwitting consumer will soon find out, low cost or "free" estate planning documents are not really "free".
The most serious problem with trust mills is their ultimate objective.  That is, to obtain an individual's financial information so that its sales persons can sell unneeded annuities and related investments to unsuspecting individuals, most likely to the elderly and vulnerable adults.
Sales agents for these operations often misrepresent the disadvantages of seniors' current investments and the advantages of the investments they are selling.  They may even make seniors believe their bank accounts are not as safe as the annuities or investments they want the seniors to buy.  To give themselves a cloak of legitimacy, these sale agents pretend to be experts at Living Trusts.  In their solicitations, these sales agents often pose as expert financial or estate planners.  They pass themselves off as a "trust advisor", "senior estate planning" individual or a "paralegal" and schedule initial appointments with seniors in their homes.  Under the guise of helping to set up or update a Living Trust, the sales agents find out about the seniors' financial assets and investments.  They sometimes work in assisted living centers, churches and other places where seniors gather, scamming elderly victims through free seminars and other sales presentations.
Planning an estate and choosing investments involve important legal, financial and personal decisions.  If financial planning documents are not properly prepared or executed, they can be invalid and cause lasting damage.
Following our tips can help consumers avoid becoming victims of trust mills and their scams:
The sales agents at trust mills are usually not attorneys nor are they experts in estate planning;
Watch out for companies (and individuals) that sell Living Trusts together with  annuities and other investments;
Sales agents may fail to disclose possible adverse tax consequences or early withdrawal penalties that may be incurred when transferring stocks, bonds, certificates of deposits or other investments to annuities;
An annuity is not 100% safe and only a portion is guaranteed by the state;
Insurance companies can and do fail and their assets may not be enough to pay the full value of the consumer's investments; So called "promissory notes" are not insured by the FDIC or other governmental agencies and may be very risky.  They may not be registered as securities with the State of Arizona;
Before consumers buy an annuity or other investment, they should review it with people who know trust law, such as their financial or tax advisor, their attorney and trusted family members; and
An attorney qualified in estate planning can help consumers decide if they need a Living Trust and other estate planning documents or help them review an existing Trust or Will.
Here are some steps that you should take before you sign papers to create a Will, Living Trust or other estate planning documents:
Consult with an Arizona licensed estate planning attorney or financial advisor, preferably one recommended to you by a trusted friend or family member, or contact the State Bar of Arizona and ask for a referral of a certified specialist.
Beware of high pressure sales tactics.  Take time to consider your options.
If you decide to obtain a Living Trust, make sure it is properly funded.  That is, that the property has been transferred from your name to the Trust.  Unless your assets are retitled in the name of the Living Trust, they may very well be subject to probate proceedings upon your death.